The holiday of love and romance. Beautiful bouquets of roses, boxes of chocolates, and candlelit dinners; regardless of where you live in the world Valentines Day is a particularly special holiday. However, sometimes Valentines day can be stressful; What do I wear? What presents do I get? Where do we go for dinner? What activities do I plan?!! The things we go through just to get some quality time with the person we love…
This Valentines day we would like to make your life easier. First off, we are offering a special promotion for all our women members. Women, book a vehicle for Valentines Day (14th Feb) and receive 85% off the normal tariff! 
Additionally, we would like to give our members some ideas of places to go and things to see. Instead of staying in town this weekend, take advantage of our offer and take a trip out of town. Drive yourself to a romantic getaway and make a weekend trip out what is normally just a one day experience. What better way to spend quality time with your significant other than taking a road-trip and relaxing in one of the scenic nearby hill stations!
Romantic Getaway#1 – Quiet Healing Center: Auroville

Located directly on the beach, this hotel is one of the most romantic places to stay in all of India. Beachfront rooms with the soothing sounds of the ocean, hammocks under palm trees, swimming pool massages, and organic delicious meals are just some of the reasons why you should visit here. If you are looking for a calm weekend getaway where you can truly relax and detox, this is the place to go.
Romantic Getaway#2 – Kings Cliff: Ooty
Located at the top of a winding hill road, Kings Cliff is where luxury meets laziness. Panoramic views of the rolling hills of Ooty, fireside music, and outdoor botanical gardens make this the ultimate romantic getaway. Wake up in the morning to the beautiful views of clouds winding through the hills and valleys and enjoy the luxuries of breakfast in bed. If you are looking to escape the hustle and bustle of city life in Bangalore, Kings Cliff is simply unparalleled…and cheap chocolates make for the perfect Valentines day gift!
Romantic Getaway#3 – The Kurumba Village Resort: Coonoor
This next romantic getaway brings a new meaning to the word aromatherapy. A hotel immersed in the middle of nutmeg, clove, and pepper fields, this destination needs to be breathed to be believed! Fully equipped with luxurious rooms, incredible food, and a swimming pool with views of the surrounding vegetation, this place is simply incredible. If you are looking to spend a little extra money for A LOT of extra luxury, this is the place for you. Pristine views, perfect air quality, and pampering about, everything about this hotel screams Valentines Day.
Romantic Getaway# 4 – Villa Urvinkhan: Chikamagalur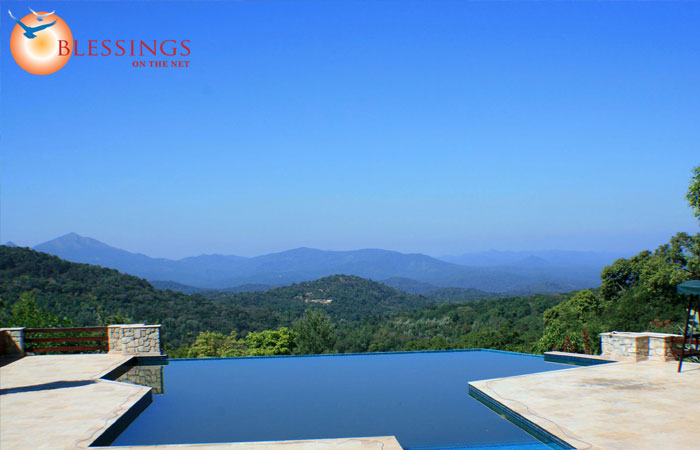 If you and your significant other are coffee lovers, Villa Urvinkhan is the place for you. Located directly in the middle of a coffee plantation, gourmet coffee is enjoyed by travelers from all over the world. Quaint, elegant, and picturesque, this is the perfect place to spend a weekend with your significant other. Spend time by the pool or go trekking through the nearby forest, there is plenty to see and do at Villa Urvinkhan.
Romantic Getaway#5 – Rent a houseboat in Kerala

I always like to save the best for last…If you haven't done it yet, rent a houseboat in Kerala and spend a night or two living on the backwaters. Amazing views, delicious fresh food cooked right in front of you, and the soothing sounds of the waters to put you to sleep. This is hands down my favorite romantic getaway. Nothing says "I love you" like sunsets, fresh fish, and open waters.
If, after reading this, you are considering going to one of these destinations, my suggestion is to BOOK NOW. Take care of your plans earlier to avoid the stress and confusion later in the week. This is a unique opportunity to spend an entire weekend with the person you love. Don't pass it up.
Enjoy your trip and safe Zooming!