Every now and then, we tend to break free from our fast-paced lifestyle and set out on a journey to not just rejuvenate, but to also rediscover our true potential. And that's how over the years we have made travel, especially a getaway, an integral part of our lives. Thanks to the advancements in the travel industry, one can now even try a combination of transportation modes to reach the destination. However, we all know that a trip is not always about the destination but mostly about the journey taken by the individual. And that's why a self-driven road trip has become more popular than ever. Here's a list of reasons as to why road trips are vital in this era and are no longer limited to a particular age group.   
Choose Your Own Path
One of the major reasons to opt for a road trip is that you have the complete flexibility to choose not just your destination, but also the route you take. Also, there are no schedules, no check-ins and no specific halts, making your journey a highly flexible one. This means every individual, no matter how organised they may be at their workplace, gets to be a carefree bird.
Catch Up With Buddies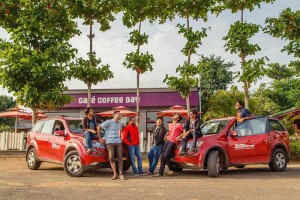 Since most of us love to travel with our friends or family, travelling by a car gives you the opportunity to catch up. Not just on the major changes, but also the tiny incidents that made your friends evolve. Most importantly, you have complete privacy.
Adventurous Family Time
A road trip with family is the best way to give your children the exposure to various real-life situations and how to tackle with them. It is also a great time to understand how they function and pass on some much-needed advice to them.  The best part about travelling with kids is that you get to be a kid too and not regret it all.
On-the-go Planning
You wouldn't have to shy away from being impromptu or be scared of making an incorrect choice. Also, as we all know, when we have the right company to travel with, being silly is important. And as you have the flexibility, it feels as though the world is at your feet and you could say, "I drove, I saw, I experienced".
Roam Like A Traveller
With a car to cater to your every need, you need not be a tourist anymore. You have the freedom of exploring the road less travelled and be tagged as a real traveller. Also, these unexplored places may end up becoming your go-to point every time you want to just destress.
Extremely Convenient
Pack as much as you want and not as much as you need. This is especially beneficial when you are a group of hungry hogs or camping enthusiasts or even a family travelling with kids. Since you have ample space, you no longer need to worry about weight restrictions and leave your essentials behind.
So, what's your reason for the road trip?